Are you looking for a 2018 day planner? This extensive list of planners is perfect for creative types and entrepreneurs as well as others.
I Bring You Choices!
I've scoured the interwebs and found 101 planners for you to check out! I'll add more 2018 planners as I hear of them, so this number will rise (last year's list started at 70 and ended up around 95, lol). If you know of any I've missed, please leave a comment below - or send me a note at [email protected] - and I'll add them.
I may receive commissions for purchases made through links on my site. Please see my full disclosure for further information.
Click On the Name of the Planner
Each planner name is a link to the website for that planner so you can learn more about it. Some of these are affiliate links. This means if you click the link and make a purchase, I may receive a small commission for having referred you. I also have included a few discounts!
Planners Come, Planners Go ...
I've been doing my "mega planner post" for 3 years now and each year the offerings change a bit. Some planners disappear but even more new ones arrive. It's quite exciting, not only to see all the options we have but to see so many small business owners and entrepreneurs making their OWN planners!
You Gotta' Dig Deeper :)
Each photo shows just one of the options or views so please click on each site! I could only choose one image to represent each company but their websites have a lot more information ranging from photos, videos, alternate versions and sizes, free printable pages, and of course the pricing. In other words, don't just go by what's shown here; click the link and see all the options :)
Tip: Many of the planner sites provide a discount if you sign up for their e-mail list. They'll also send out their free shipping specials, printables, etc. It's a great way to save money and also get the most from your planner.
There is Truly a Planner for Everyone
The variety of planners available now is stunning! There are blog, yoga, and business planners, mom planners, motivational planners, teacher planners, even a planner just for photographers. You can track your daily schedule, business or personal goals, even your water consumption. So many options for creatives, entrepreneurs, moms, and more! Just keep looking until you find the one that's right for you.
The "Best" Planner?
I often see people online asking "what's the best planner?" but I don't think there's any one answer. What we each need or value in a planner may be completely different. For instance, I need a lot of writing room for my large handwriting whereas you may need a small planner that fits in your purse. You might like a bound planner while I prefer a spiral one. We all have different preferences but, believe me, there's a planner out there for everyone!
Not Just the Usual Paper Planners
Some planners are interactive and creative with stickers and other accessories you can add. Others are "just business" and help you get the job done. Some are looseleaf while others are bound, and there are many printable pages and paper pads as well. Some planners are straightforward and others require instructions and have a whole philosophy behind them.
I hope this is a great resource that helps you to choose your perfect planner. If you have any questions, I'm happy to help. Now settle in: You're about to go down the planner rabbit hole 😂 Enjoy!
1. Action Day
2. Amelia Lane
3. Arc
*Use code ERIKA5 for $5.00 OFF a signature 2018 Ashley Shelly Planner! Expires 12-31-17. Thank you Ashley!!
5. At a Glance
8. Big Picture
9. Blissed
10. Blog + Life
11. Bloom
*Through 01-13-18, get 10% off if you use my link!
12. Blue Sky
13. Blueline
14. Brilliant Life
15. Bullet Journal
16. Business Cinema Production Planner
* "I'd love to extend a 15% off discount to your readers. Just use Code: EF1815." Thanks so much, Holly!
18. Commit 30
19. Content Planner
20. Daily Action
21. Daily Greatness
* Get 5% off with use of my referral link!
22. Danielle LePorte
23. Day Designer
24. Dayspring
25. Day Timer
28. Empower + Attain
30. Erin Condren
32. Full Focus
33. Get to Work Book
34. Green & Lyme
36. Happy Balance
38. iBloom
39. InkWELL Press
* $10 off purchase of $50 with use of my link!
40. InnerGuide
42. Jacque Smith
43. Kahootie Co.
44. Kate Spade
45. Kikki K
47. Launch Planner
49. Lilly Pulitzer
50. Living Well
* From Natosha: "The planner is normally $19.99, but I'm going to offer 40% off to your peeps, making it only $12. :) Just tell them to use "lovelyyear" for the discount code." Wow, thanks Natosha!!
52. May Designs
53. Moleskine
54. The Navigator
55. Nomatic
57. Panda Planner
58. Paperblanks
59. Paper Source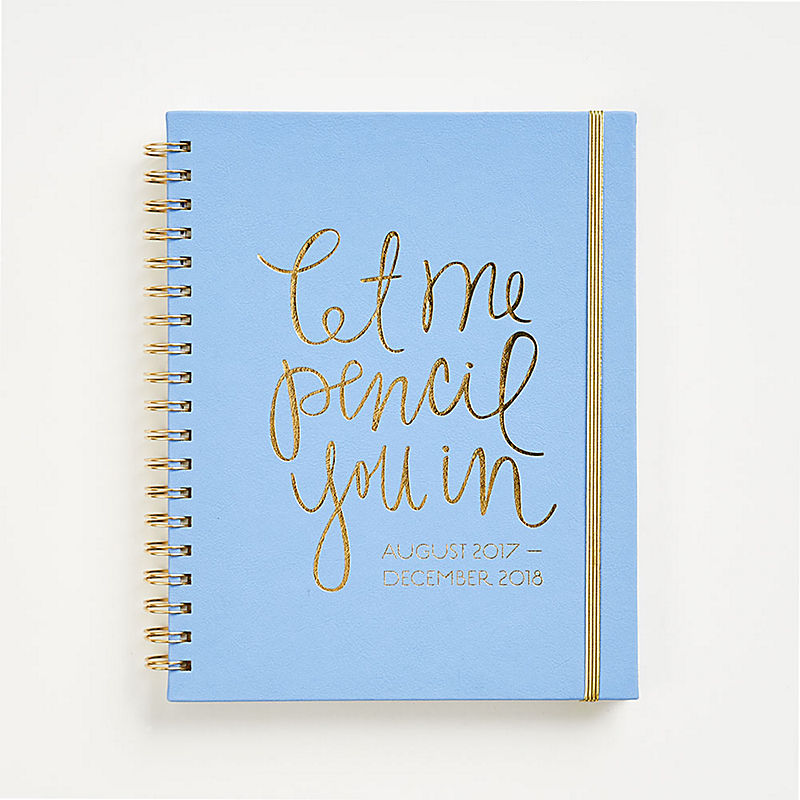 60. Papyrus
61. Passion Planner
63. Planner Pad
65. Poppin
66. Posey Paper Co
67. Print & Go
68. Purple Trail
Use code ErikaFriday for 10% off anything on the site. Thanks Purple Trail!
70. Quo Vadis
71. Rebel's Agenda
72. Refresh Planner
73. Restored 316 Business Planner
74. Rifle Paper Co.
75. Rituals for Living Dreambook and Planner
76. Rule the World
78. Self Journal
79. She Plans
82. Start Planner
83. Stil Classics
84. Strong Business Planner
*Joy created a coupon code! Get the Planner for only $25 now through 1/31/18 with code HOLIDAYS2017. That's 50% off!
85. Studio C
86. Susana Cresce
88. TF Publishing
89. Tools 4 Wisdom
90. Uncalendar
92. Volt
93. WeekDate
94. Wright Planner
95. Write It Designs
If you're also a scrapbooker or crafty type, try these:
96. Carpe Diem, 97. Webster's Pages, 98. MAMBI, 99. Dokibook, and 100. Heidi Swapp. Then check out 101. The Reset Girl for lots of fun accessories. I have the Simple Stories "Carpe Diem" planner and it's gorgeous <3
If you know of any planners I've missed, please let me know in Comments or e-mail [email protected] so I can add them! Also, let me know which were your favorites or what did you buy?
Added 12-16-17:
102. Efic Planner
103. Protopreneur
104. Social Kate
Added 12-20-17:
106. Kit Life
Added 12-22-17:
108. Golden Coil

109. I 💗 Planners

110. Karen Avila
111. Ondarez Good Life Planner
112. Portly Paperie
*"We are giving 10% discount for your readers when they insert ERIKAFRIDAY code during checkout." Or just click on the link and the discount will automatically be added during checkout. Thanks Charlie!
Happy Planning!
xo,

PS: I would love if you'd share this post with your friends, co-workers, Tweet it out, Pin it, share it in your favorite Facebook groups, etc. Thanks!
PSS: Planner vendors - If you have any discounts or specials you can offer my readers, please contact me! [email protected] and I'll add it to the post. Thanks!